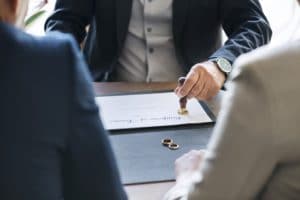 What Happens if You Divorce While in a Chapter 13 Bankruptcy?
Nevadans who divorce during their Chapter 13 bankruptcy repayment plans will need to decide how to handle their Chapter 13 cases and have a few options. If their divorces are amicable, they might continue with the repayment plans as they are. People can also choose to dismiss the Chapter 13 plans and then to refile new bankruptcy petitions on their own. Finally, the spouses can ask for the bankruptcy court to restructure or bifurcate their Chapter 13 cases. There are benefits and drawbacks of each of these methods.
Divorce During Chapter 13 Petitions
In general, it is best to avoid overlapping bankruptcy and divorce cases. People who plan to file both types of cases might want to complete their bankruptcy cases first before they file for divorce so that they can share a single bankruptcy lawyer and one bankruptcy filing fee. While completing a Chapter 7 petition before filing for divorce might be easier since it is short, a Chapter 13 bankruptcy case can take from three to five years. This might make it difficult for people to wait to get divorced until their Chapter 13 cases are finished. There are a couple of options for people who want to proceed with their divorces during Chapter 13 repayment plans.
Continuing With the Chapter 13 Plan
Spouses who are going through amicable divorces may decide to continue with their Chapter 13 bankruptcy plans. If they do, one or both spouses may need to hire a new attorney. The bankruptcy court would need to approve of maintaining the plan as well as any agreed-upon debt and asset division in the divorce.
Dismissing the Chapter 13 Case
Couples can also decide to dismiss the Chapter 13 case so their divorces can proceed. However, they will be responsible for the full amount of their debts. If they decide to dismiss the case, the spouses may file their own separate bankruptcy petitions, including Chapter 7.
Restructuring the Chapter 13 Case
Couples can ask the bankruptcy court to restructure or bifurcate their Chapter 13 plans. If this occurs, the court would divide the Chapter 13 plan into two separate plans and would need to approve of the debt division portion of the divorce case.