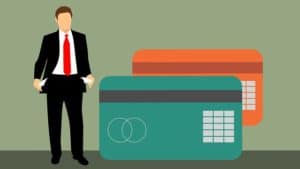 What Happens to My Company-Issued Credit Card When I File Bankruptcy in Henderson, NV?
When an employee files bankruptcy, the fate of a company-issued credit card depends on the type of card issued and the employer's policies regarding account responsibility.
Authorized User vs. Obligor Account
Two types of corporate credit cards are typically issued: authorized user accounts and obligor accounts. Depending on the employer and the issuing bank, an employee may be required to assume partial responsibility for the debt on his corporate credit card. The card issuer, for example, American Express, may require employees to cosign on the account as an obligor. The employer might also require employees to cosign the credit account, too. This step is done to protect the interests of both the issuer and the employer if the card is misused.
If the employee files for bankruptcy and has an obligor account for his work credit card, he will be required to list it on his bankruptcy paperwork. The employee will likely lose access to the card because once the bankruptcy process begins, the issuing bank will probably close the account. Employees sometimes try to leave company credit cards off their bankruptcy paperwork. Since credit card lenders frequently scan bankruptcy filings and match them to account holders' social security numbers, these attempts are rarely successful and can cause complications later.
If the employee is an authorized user on a company's credit card account, he will generally not be required to list that credit card on his bankruptcy filing. However, it is a good idea for the employee to confirm that he is just an authorized user instead of an obligor.
Strategy for Dealing with a Bankrupted Corporate Account
It may be difficult for employees to approach their employers about impending bankruptcies because of the stigma that is often attached. Filing bankruptcy shows that debtors are taking steps to gain control of their debt. It is better for filers to be upfront with their employers about what is happening with their credit card instead of waiting for the credit card issuers to notify them.
Some employers might be willing to make the bankrupt employee an authorized user on a company card if he has previously used his corporate card responsibly. Another option might be that the employer creates a debit card account for the employee's work expenses, like travel or supply expenses.