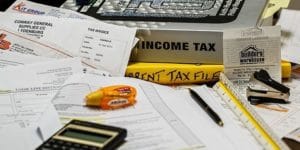 Handling Income Changes While in Chapter 13 Bankruptcy in Henderson
When a debtor's income changes while in Chapter 13 bankruptcy in Nevada, the trustee administering the plan must be notified. The repayment plan may need to be modified or restructured. In some cases, the debtor may qualify for a hardship discharge or a conversion to a Chapter 7. When income changes are substantial, a dismissal may be the best option.
Why Must a Debtor Report an Income Change?
Debtors who are enrolled in a wage-earner repayment plan are committing to using their disposable income to repay their debt. Disposable income is the portion of income that is not used to pay for reasonable living expenses for the debtor and his or her dependents, like groceries, rent, and utilities.
The Bankruptcy Court expects that disposable income is used toward paying off debt during the initial three years of a Chapter 13. When there is an increase in income, the trustee may request that the debtor's payment amount be increased accordingly. However, if the debtor's expenses increase along with his or her salary, like commuting expenses, it may be determined that the disposable income is not substantial enough to increase the payment amount.
Conversely, if a debtor's income has decreased, it could create a hardship for the debtor to make his or her payments. Failing to make payments could lead to an involuntary dismissal of the Chapter 13 bankruptcy plan. In some cases, debtors may be able to convert to a Chapter 7 bankruptcy.
Sometimes it is possible to request a decrease in plan payments. If a debtor's monthly income as listed in the bankruptcy filing decreases by $300, it may be possible to request that the plan payments be decreased by $300.
Requesting a Change in Chapter 13 Repayment
A debtor's bankruptcy documents and repayment plan will usually dictate what he or she will need to do if income changes. It is routine for trustees to require notification if debtors' income increases or decreases by 10 percent or more than that reported on Schedule 1 of the Chapter 13 filing. The debtor or his or her bankruptcy lawyer would need to notify the trustee of the change, along with supporting documents, like a pay stub.