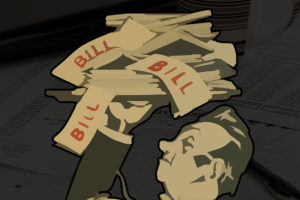 Mistakes on Nevada tax returns could result in tax debt bill
Nevada residents gearing up for tax time might be interested in the story of a former NFL player, Bill Romanowski, and his wife, who reportedly owe the IRS around $5 million in tax debt. Any resident can find themselves with a tax bill, but sometimes it can be a surprise, especially if there was an error on their tax return. This appears to be the situation for the Romanowskis, but it has unfortunately resulted in a huge tax debt that will have to be addressed.
Initially, the IRS claimed the couple owed an additional $950,000 in penalties because of the unpaid taxes. However, the couple challenged that claim, and a court ruled they didn't owe it. Their tax debt is linked to the couple's horse-breeding operation. The company, Romanowski Thoroughbreds, went under due to bankruptcy, and the business principals were charged and convicted of committing federal tax fraud.
The Romanowskis had reportedly borrowed over $13 million in order to invest in their business. There are no specific details on why the operation collapsed, but the couple came under the spotlight of the IRS. The United States Tax Court ruled the couple made an error when they declared some losses to be business losses. The couple was notified in 2010 concerning the tax debt they owed.
When a Nevada resident receives a notice from the IRS about tax debt it is not a reason to panic. However, it might require the need for additional research into one's tax records or a conversation with the IRS about the debt. While a tax bill can be frustrating, it can often be settled in a way that benefits both the IRS and the debtor.
Source: Philadelphia Business Journal, "Former NFL linebacker Romanowski said to owe IRS $5M," Feb. 28, 2013